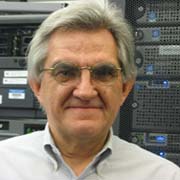 William H. Mischo, head of the Grainger Engineering Library Information Center, earned a bachelor's degree in Mathematics from Carthage College in 1971 and a master's degree in Library and Information Science from the University of Wisconsin-Madison in 1974. He joined the Illinois faculty in 1983.
Professor Mischo has been a Principal Investigator on a number of digital library grants from the National Science Foundation (NSF), including the National Ethics Portal grant. Mischo has published some 70 articles and conference papers in the field of library and information science and has presented at more than 75 national and international conferences. He was the recipient of the 2009 Frederick G. Kilgour Award for Research in Library and Information Technology from the American Library Association and OCLC. More recently, the American Association for the Advancement of Science recognized Mischo as a 2015 AAAS Fellow for "research relevant to the development of new digital library technologies."
He was invested as The Berthold Family Professor in Information Access and Discovery in 2016.