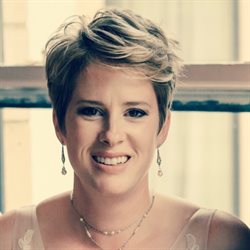 Sarah Weinstein began her media career with four years as a writer, producer, "one-man band" and fill-in anchor at CNN International and CNN Headline News. Known for blending high-gloss visuals with uncompromising depth, Sarah's soulful storytelling connects audiences to the everyday struggles and successes of her subjects.
That philosophy shines through in Sarah's powerful interview with Katy Perry and her extensive documentary footage featured in Paramount Pictures' 3D concert documentary "Katy Perry: Part of Me." In 2011, Sarah directed and shot "On the Road with Blink-182," a 30-minute documentary and extensive web series for AT&T, Uverse and Dragonfruit Studios.
Sarah regularly directs and shoots music videos, documentaries and behind-the-scenes "making of" content for the music industry. When she's not in the studio, Sarah produces, directs, shoots and edits advertisements and a variety of online content for clients including NPR (KPCC), Monocle Magazine (UK), The Fruit Guys, Chiat-Day (Gatorade), Barclay's Bank, Forbes Travel, AOL, Disney.com, Intercontinental Hotels, Too Faced Cosmetics, Panasonic, Penguin Books and The Discovery Channel, among many others.
Sarah is from Champaign, Illinois. She received her bachelor's degree from Illinois Wesleyan University and her master's degree in journalism from Columbia University.