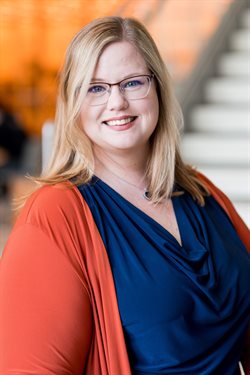 Jenny Lamberson is a Creative Video Producer for NCPRE.
Lifelong native of the Champaign-Urbana area, Jenny holds a Bachelor's of the Arts in Radio and Television Production from Southern Illinois University at Carbondale where she immersed herself in behind-the-scenes work. Her area of focus rests primarily in visual communication in journalism, and she served as Graphics Editor for "The Daily Egyptian" while a student.
After graduation, she worked at the regional CBS affiliate, WCIA, where she worked as the Video and Deko Operator for more than eight years. In this role, she was tasked with creating on-screen graphics for five live broadcast productions daily, along with the development of graphics packages for broadcast specials, including two general elections, specialized sporting events, and a lifestyle magazine. Her professional efforts also include Graphic Design of printed materials, commercial design, marketing, and building and maintaining client relationships through many years in direct sales.
Always one to learn something new, Jenny is an avid DIY enthusiast, and is driven by seeing an idea become a real, tangible creation. Her goal is not only to entertain, but to educate through the magic of visual storytelling. She expresses herself artistically working on specialized crafts in a variety of forms and formats, including costume design, t-shirt printing, special effects make-up, 3D printing, vinyl decals, and the occasional installation of "upcycled" art.