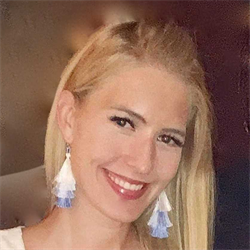 An interdisciplinary scholar, Ashley Albrecht Weaver's research weaves through the sticky interstices connecting film studies, feminist thought & methodology, critical theory, & continental philosophy. Albrecht's primary research interests include post-structuralism, psychoanalysis, American countercultural thought, and the representation of women, sexuality, & gender in film. Her dissertation investigated our affective relation to technology, how technology evolves, and finally, how we evolve with technology.
Albrecht holds a Ph.D. in Philosophy, as well as a graduate concentration in Women's, Gender, & Sexuality Studies, from Purdue University. Albrecht also completed a M.A. in Journalism from Indiana University, for which she was awarded the Cushman Memorial Fellowship to attend. Albrecht also holds a B.S. in psychology and a B.A. in English from the University of Illinois, from which she graduated summa cum laude, a member of Phi Beta Kappa, and a Bronze Tablet scholar. Additionally, she received a Graduate Certificate from the School of Criticism & Theory at Cornell University, for which she was awarded a grant to attend.
Albrecht is grateful to have had the opportunity to teach in a variety of academic settings. At Purdue, she taught 'Introductory Composition,' 'The Movies' (Introduction to Film), 'Business Writing,' & 'Fundamentals of Speech Communication.' She also taught distance courses online via face-to-face technology for Broward College Ecuador, including: 'Introduction to Philosophy,' 'Introduction to the Short Story,' and 'Film as Literature.' At IPFW (Indiana University-Purdue University Fort Wayne), Albrecht served as an adjunct faculty member in the philosophy department, where she taught both 'Introduction to Philosophy' & 'Ethics.' Lastly, she taught 'Visual Communication' at Indiana University. Additionally, Albrecht worked multiple summers at Johns Hopkins Center for Talented Youth, in both teaching and administrative roles. Albrecht also became acquainted with the world of academic publishing while working as the Acquisitions Assistant for Purdue University Press.